PE Power Exam Preparation
Candidates can fast-track their exam preparation through our PE Power Study Guide and Online Course.
Select an option that suits you best
10% discount
Monthly Subscription
(On-demand Course)
Billed Monthly
24/7 email support
Simulated Practice Exam
Live 1-on-1 Zoom call
Weekly Live Training
10% discount
4-Month Plan
(On-demand Course)
One-time Payment
24/7 email support
Simulated Practice Exam
Live 1-on-1 Zoom call
Weekly Live Training
10% discount
6-Month Plan
(On-demand Course)
One-time Payment
24/7 email support
Simulated Practice Exam
Live 1-on-1 Zoom call
Weekly Live Training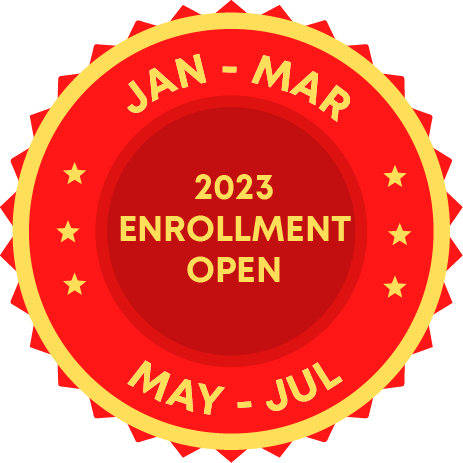 10% discount
8-Month Bundle
(On-demand + Live Training)
Sat/Sun 10am – 12:30pm EST
One-time Payment
24/7 email support
Simulated Practice Exam
Live 1-on-1 Zoom call
Weekly Live Training
Student Testimonials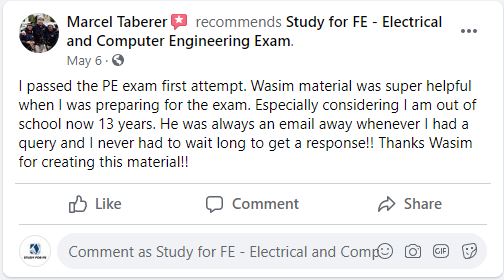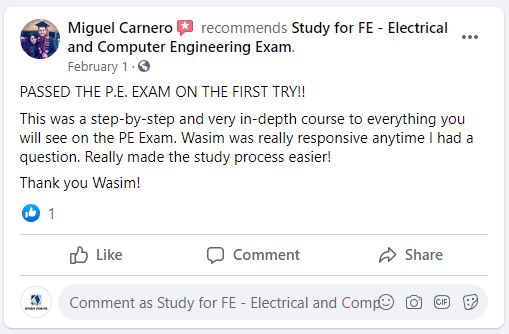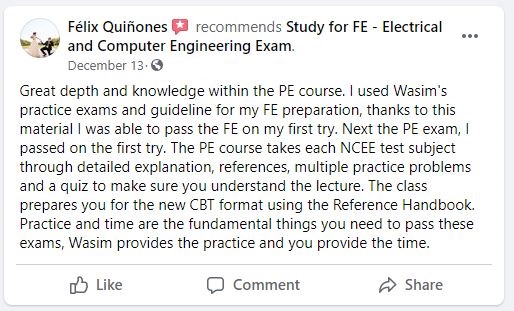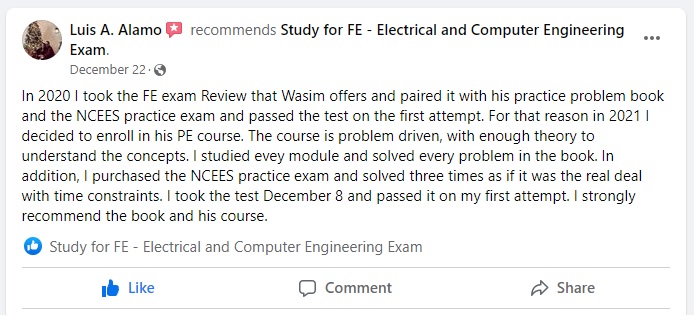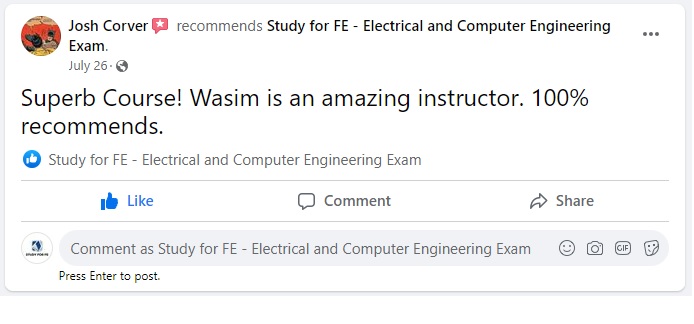 On-demand PE Power Exam Course
100+ lectures and quizzes and computer-simulated practice exam as per the latest NCEES® PE Power CBT exam specification BONUS: Full-length CBT practice exam included
PE Power Exam Prep: The Comprehensive Guide to Preparing for the PE Electrical Exam
Preparing for the Principles and Practice of Engineering (PE) exam is daunting. Planning to prepare for the exam is the first challenge faced by candidates. There's no secret formula out there: all attendees must abide by a set of rules and outlines to prepare for the exam.
In this article, we illustrate a comprehensive guide on how to prepare for the PE power exam, expert tips, recommendations, as well as resource material to help you secure a passing position. It should be made clear that examinees likely to slack and skip the steps stated here run the risk of slimming their chances of success. As exam day approaches close, you may be tempted to multitask. While this may be a good strategy, failure to maintain concentration and focus.
Appearing for the electrical engineering PE exam requires passing the NCEES® Fundamentals of Engineering (FE) exam. Once cleared, the candidate will be considered an Engineering in Training (EIT) or Engineering Intern (EI). It requires you to start preparing three months in advance, averaging up to 100-120 hours. If your exam is due in April, you should start studying in January.
It is key to start preparing using the official NCEES® practice exam and then take on each solution in detail. An indication of good preparation is the ability to solve each problem. Give yourself three months and keep in mind that your professional license hinges on this particular exam.
How to Prepare for PE Power Exam
Here are 4 key steps to keep in mind:
It is advisable to keep the following points in mind for electrical PE exam prep:
Scour the structure and content of the PE test you are undertaking
Use diverse PE study material
Practice self-discipline and harness good studying habits
Focus on creating a study plan because self-discipline can take you a long to accomplish your goal here. Try to maintain your concentration on the subject, and be consistent with following your PE exam study plan. It is good to tackle tricky questions. Let some critical thinking sessions push your boundaries of analytical thinking. To ensure you are ready to take on the exam, practice answering some practice questions and tests.
1 – Download the Latest NCEES® PE Power Reference Handbook
As you prepare, your first instinct will have you searching for the best study material. Without a doubt, the NCEES® PE Reference Handbook is the way to go. All successful candidates throughout the history of the fundamentals of engineering exam have been restored to the NCEES® handbook.
You can obtain the free Reference handbook from NCEES®. You must look for the revised version of the reference handbook. You will spend the first few days learning how to navigate through the book as it is important to learn the key outlines.
The handbook singlehandedly provides the highest online learning experience, which other source material may not provide. The practice questions in the handbook are up to date and abide by the updated structure of questions. The problems brought up in the exam are always updating and improving to suit today's dynamic engineering world, so beginning with the NCEES® reference book is viable.
2 – Consider a Streamlined PE Power Exam Preparation Course
We highly recommend the PE Power Exam course prepared by Wasim Asghar, the single most promising study material that will boost your analytical skills. Wasim Asghar is an internationally recognized professional engineer based in Texas, Florida, and Ontario. He has amassed sound consulting experience in design, commission, and plant engineering projects in the energy, infrastructure, and mining sectors.
If you struggle to prepare for the PE exam or find yourself unable to answer most practice tests, then this course is right for you. It is specifically designed to cover the NCEES® PE exam specifications. The best part is that you can access and study for it at your own pace and comfort level. The course offers the utmost flexibility as it can be accessed and studied anytime and anywhere.
The course brings more than 50 lectures and quizzes that set you in motion to take on the exam. You can find yourself grasping the concepts with ease using a wide array of theoretical questions, quizzes, and solution-based examples.
This PE prep study course will help you develop key competencies in solving many problems brought up in the exam.
Each section comprises a topic overview, important facts, and tips related to the exam. By reading the overview at the beginning, you will gain the necessary theoretical knowledge on what to expect on the PE exam. The tips and recommendations for the PE exam will give you a precise look at what you are dealing with.
The course offers theoretical concepts which are provided in a manner making it easier to remember the small, important details. The strategic division, of course, opens into lectures that will help you develop a firm grip on the necessary concepts and theories. Almost every complicated section is simplified and presented less intimidatingly and is fun to learn.
It is noted that some time-consuming PE exam questions have a larger weightage. Practicing these becomes a key step that ensures your success. But getting the correct answer is not the only important aspect here. Managing time is equally important. By the end of this course, you will be able to reach the correct answer in the given time, as the resource material will throw across a heap of time-stamped practice questions.
While you may find yourself at the back of endless theoretical concepts, it is still important to take some time to attempt quizzes. Testing yourself from time to time is important because it will give you a complete framework of where you are standing. Attempting quizzes will help you tackle problems and get used to the exam environment.
You have come this far, which means that you have previously attempted exams and tests like GMAT, GRE, SAT, etc. One thing appearing in standardized tests taught us is the importance of a proper schedule and preparation plan. This course also brings a detailed preparation plan with PE power practice problems, quizzes, references, and theories.
3 – Create a Study Schedule and Stick To It
Get acquainted with the PE Exam planner developed by Wasim Asghar. It is specifically designed to help you stick to a daily routine and schedule.
Many students have utilized this exam planner and its linked resources. You may have an academic background because this planner is impartial and designed to suit candidates on all levels of preparation and skillset.
The planner includes:
A four-month exam preparation schedule
this is all you need to get started. The four-month schedule brings you from level 1 to level 10. But you must stick to the plan without cutting some slack.
Practice exercises to get you familiar with questions
these are queries that reflect the actual exam questions, and practicing them will help you think analytically while attempting each question.
A preparation strategy
every major exam requires a strategy, and this one is created by an expert who has had a stellar success run so far.
A free hour-long webinar
it is normal to have questions, queries, and willingness to explore topics in more detail, which is why this hour-long webinar gives students a chance to bring it together at once.
4 – Go Through All Exam Topics in Detail and Practice Problems
It goes without saying but missing out on any topic puts you at risk. Experts highly advise that you cover every topic in detail, and each exam's practice questions must also be covered comprehensively to help you maximize preparation levels.
In addition, attempting these questions would boost your confidence to eventually appear in the exam.
Things You Should Know About the PE Electrical Power Exam
If you're going to attempt the test for the first time and lack information about the difficulty level and format of the PE electrical power exam, we are here to guide you. Briefly speaking, the PE Power exam is based on 80 questions with the majority of these questions being multi-choice questions. Some other types of question-answer formats can be:
Drag-And-Drop
Multiple Choice Questions
Multiple Answers
Point-And-Click
Fill in the Blanks
There is no negative marking in the PE exam so you have the liberty to mark the answer even if you are not sure about the correct option. The total time allowed to complete the exam is 8 hours. It means you need to focus on the same question for not more than 6 minutes.
To help you clear your concepts, below are some facts to give you a general idea about what your PE Power Exam process is going to be like.
Let's get started.
Before Taking the PE Power Exam
Some of the mandatory requirements you need to fulfill before taking the PE exam include:
4 Years Degree in ABET-accredited engineering degree program.
Passing the FE exam and getting an EIT certificate
At least 4 years of work experience under the supervision of a PE-licensed engineer.
Some state boards also require you to fulfill some additional requirements. Therefore, it is recommended to go through the roadmap set by your state by visiting the official website of your concerned state or licensing board.
Our entire PE Power Exam course structure is in accordance with the guidelines set by NCEES® official website. The right preparation strategy involves developing an ability to crack each engineering problem within a specific time. Getting enrolled in the PE Power Exam Preparation course offered by Studyforfe can get you to your goal with minimum effort.
Examination fees for PE Power Exam
You need to submit a $375 PE exam fee to NCEES®. The total fee you will submit can vary depending on your state board as some state boards may ask you to submit a separate application and pay an additional application processing fee. This application is intended to evaluate your profile if its eligible for the PE exam as per your state's criteria or not. All state boards can have different requirements.
Registration Process for PE Power Exam
If you want to get registered for the upcoming slot of the PE Electrical Power exam, the process is fairly simple.
log in to your MyNCEES account.
Click on the Exams tab on the left panel (third from the top). Then click on the "+Register for an exam" button.
Choose the PE exam to register for Professional Engineering Exam after completing all the required information.
Complete all the documents required and agree to all the terms and conditions asked by the Exam Registration Portal. (For a comprehensive account of PE Exam Registration, read our dedicated blog on how to register for a PE exam).
Confirm your accommodation, if required.
Verify your provided information.
Set up your financial information and pay for the exam fee.
Online PE Electrical Review Course
Our PE Electrical Review course covers all the dimensions of the PE Power Exam. The course outline covers all the vital theoretical concepts and mathematical or analytical problems, followed by a quiz at the end of each lecture. Our PE online course is strategically designed to minimize your effort and time while making your preparation journey seamless.
Our online PE exam review course offers the following features for in-depth preparation for our students:
Course Details
Our comprehensive PE review course delves into the specifics of the PE Electrical and Computer exam specifications, explaining necessary theoretical concepts, examples, and quizzes. In fact, it is designed in such a way that if you are already using my books for exam preparation, you will be able to maximize your learning experience!
The PE Electrical and Computer Engineering CBT exam Study Guide and published practice exams are excellent 'problem-based learning' resources that can supplement your learning.
Course Features
To help you prepare for the tough PE Power exam and start your career as Professional Engineer in the US, we've designed a comprehensive PE exam review course outline with all the necessary features and resources. Our dedicated PE Power Exam preparation course offers:
Over 160 lectures constituting the entire PE power exam curriculum
100+ quizzes at the end of each lecture
17 mini-exam at the end of each section
Our practice-based PE Exam Preparation course is committed to equipping our students with all the relevant knowledge and exam-cracking skills. The students enrolled in our PE test preparation course have a significant passing ratio, making it one of the most relevant study resources you will find online.
PE Electrical and Computer Exam Preparation Book
The most relevant and to-the-point exam guide for NCEES® PE Power Exam is our Study Guide for PE Power. It is the all-in-one solution in this regard. A number of successful applicants of the PE exam have remarked positive reviews for this PE Power exam course coupled with our dedicated PE Power guide as per the directions and roadmap set by the NCEES®. It contains all the guidelines and standards allowed in PE Power Exam.
This professional engineering exam study guide is based on the concept of "problem-based" learning. It includes over 500 focused practice problems with detailed solutions that are based on the most recent NCEES® PE Electrical and Computer – Power Exam Specification and covers all exam topics such as Measurement and Instrumentation, Special Applications, Codes and Standards, Analysis, and much more.
As part of the detailed solutions, students will find relevant formulas, code references, and explanations. At the beginning of each chapter, there are also topic-specific tips.
Human beings are prone to errors. We have recently made some amendments and corrections to our study guide for PE Power Exam. If you are using the older version, don't worry we have got you covered. Click here to access the Errata for PE Power guide and stay updated with the correct answer choices.
Frequently Asked Questions
The total time allowed to complete the PE Power exam is 8 hours. It means you need to focus on the same question for not more than 6 minutes. You are also allowed to take 50 minutes break once during the entire test duration. It is recommended to not prolong your stay-in breaks during the rest of the exam to avoid any potential shortage of time.
No, the NCEES® PE Power Exam is a closed-book & computer-based exam.
The most daunting challenge of the PE Power Exam is to stay focused for 8 hours straight making it one of the most challenging exams after FE. The PE Exam is your gateway to acquiring the title of Professional Engineer in the US, enough to make it both important and challenging for all candidates.
The topics mainly covered in the PE Electrical Power Exam include:
General Power Engineering
Measurement & Instrumentation
Industry standards & codes
Circuit Analysis
Rotating Machines
Electromagnetic Devices
Transmission & Distribution (HV, MV, & LV)
Power System Performance
Students are required to attempt a total of 80 questions in the PE Electrical power exam within 8 hours.
NCEES® gives you the liberty to appear in the PE Power Exam once every 3 months period. Whereas, only 3 attempts are allowed per year. You'll have to wait for the next year's slot to become available if you have tried all three attempts allowed per year.